Everything you need to master SEO and manage it in Notion
Organize your workflow. Level up your SEO skills with curated guides. Manage your keyword clusters. Plan your content with a built-in content brief. Use smart workflow templates. Get solutions to common scenarios, and much more.
"Wow wish I thought of this. Whether you are just getting started with SEO, or just getting started with Notion, this kit is filled with tools, templates, and resources that will set you up for success" - JH Scherck, Growth Plays
---
SEO is critical for organic site traffic, but understanding & managing it can be confusing
SEO is the best way to get consistent organic traffic for any website. But navigating the world of SEO can be tricky with spam, shady practices, and confusion.

It can be a challenge to know who to trust, where to begin, or how to keep up with the constant evolution.

Managing the work involved can be messy. And it's even harder to build the workflows and templates once you know what you need. SEO Growth Kit solves that.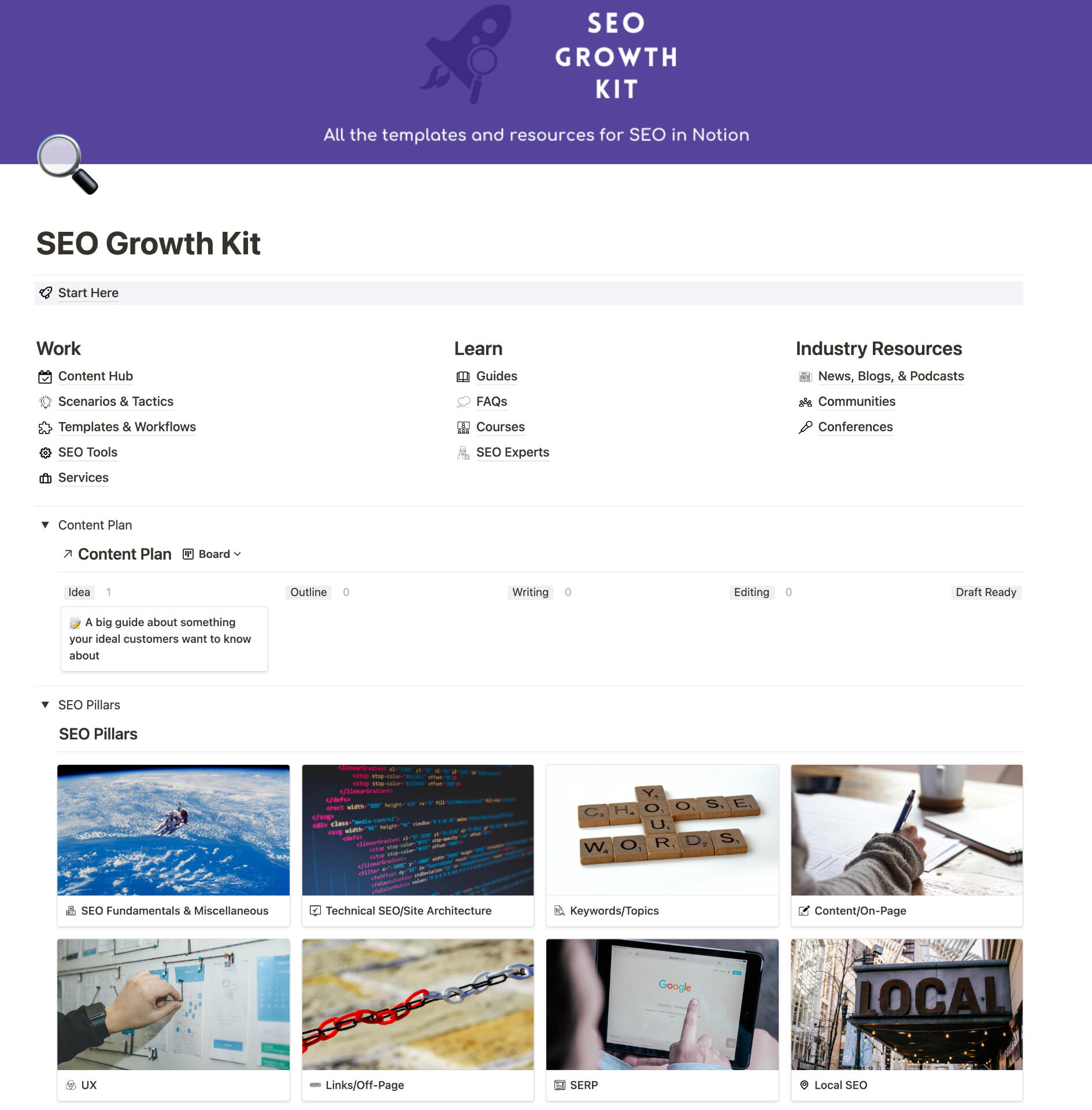 "This is a fantastic Notion template - well, much more than a template: It's a complete knowledge base, tutorial, and workbook, full of actionable guidance for all SEO activities. Grab it now before he realizes how much he should be charging for it!" - Westrow Cooper
Who this is for
You're an entrepreneur/business looking to get more organic traffic of your site.

You're new to SEO & want to know where to start.

You're an experienced SEO & want to improve your workflow & keep things organized.

You want to know the best tactics for certain scenarios.

You want a system to make search engined optimized content a breeze to create.

You want to know the right tools available to make your work easier.

You want to keep up with the ever-changing SEO landscape with ease.
---
What's included in the kit
185+ guides for the best SEO practices- to take you from "I have no idea what SEO is" to "I need to create a schema markup".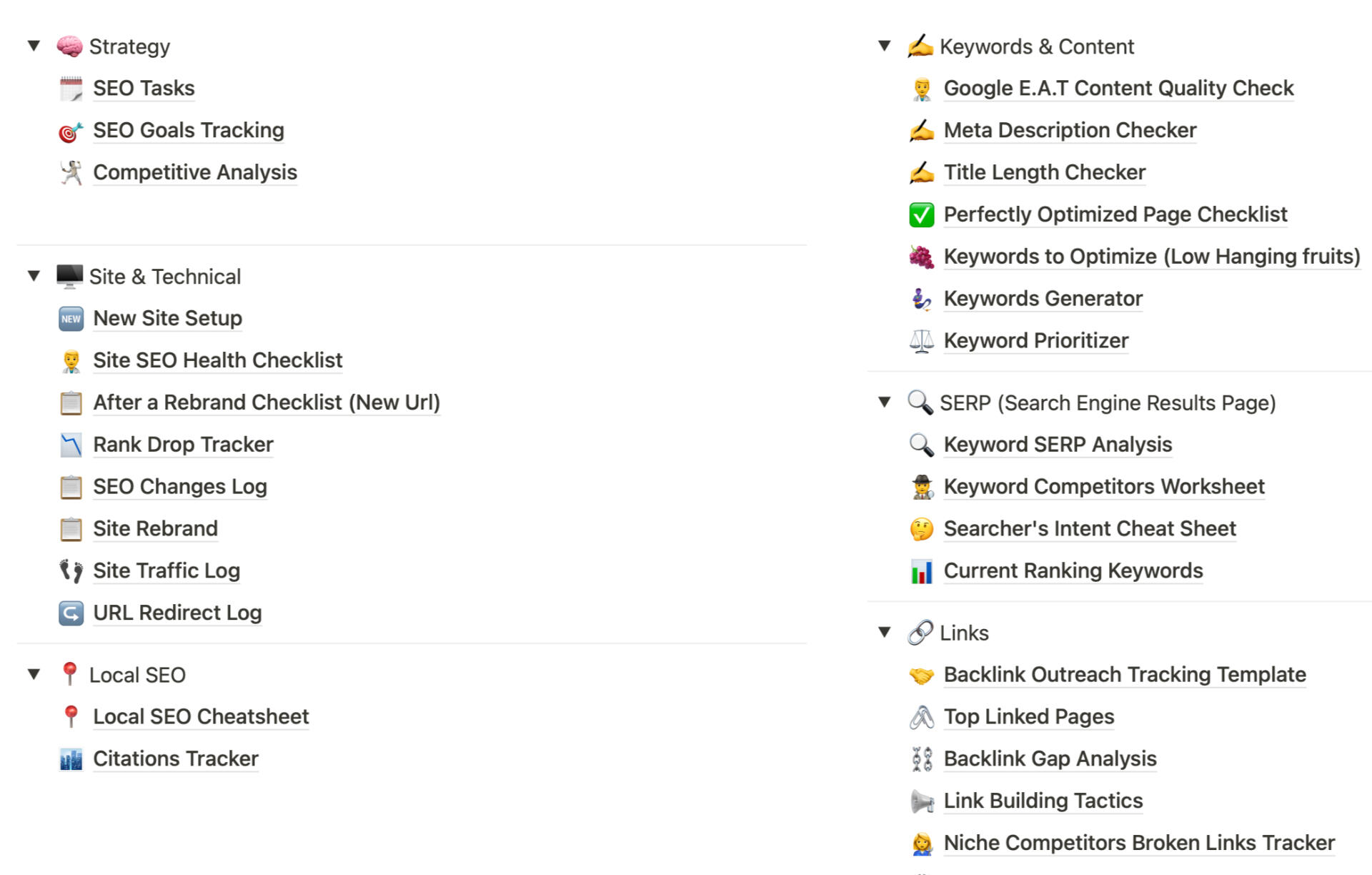 31+ of the most effective workflows to manage your SEO activities in Notion. Tools like SEO Goals Tracker, Site Health Checklist, Link Building Checklist, Outreach Tracker, Keywords Generator, Searcher's Intent Cheatsheet, and more.
Tools like the Keywords Generator, Title Checker, the Meta Description Validator, & more help you get things done fast.
SEO Tasks List

Directory for 80+ of the best SEO tools.

A comprehensive list of tactics for link building.

Best practices for link-building outreach.

Keywords list, topic clusters & SERP intent trackers.

In-depth content calendar & templates for each content (including a very detailed content brief)

List of curated SEO service providers( if you don't want to do things yourself).

Frequently asked SEO-related questions with the best answers and links to sources.

Contextual dashboards for all aspects of SEO.

A hub for common SEO Scenarios & quick tactics to tackle them.

A curated list of the best SEO courses - including many free ones.

List of SEO influencers and experts- to keep up with the latest insights.

A curated list of blogs, podcasts, and sites to learn more about SEO

The best SEO communities to network

And more!
"Oh Sh*t! Is this a guide? An organization system? A learning resource? I don't know, but it's awesome!" - Future You
---
FAQs
Who are you and how are you qualified to create this?
You can check out Notion's feature of my workflow here. When not geeking about Notion as an official ambassador, my day job is at Moz- where I also deeply geek about the best practices for SEO.

Over the years, I've learned so much about the ins and outs of SEO from the very best brains in the field and I've also helped thousands of customers master it as well.

I've been curating the best templates and resources on SEO.

Through my education, startup experience, and career, I also have skills in various fields like programming, project management, UX design, media outreach, etc. All of those skills are applied here.

Does this work on the free version of Notion?
Yes, Notion has a generous free personal plan. After you've made the purchase, we'll immediately send you a link, which you can duplicate to your Notion workspace. You don't need to pay for Notion to use this kit.


I'm new to Notion – will I understand how this works?
Yes, I'll record a video walkthrough and attach it to this when it's launched.

Is there a refund policy?
Due to the nature of this product, generally no. However, I value long-term relationships over quick bucks. Reach out if you're not satisfied and I'm happy to refund you :)

Can I duplicate this and share it with my team/friends?
This is a personal license for individual use. If you intend to use it in a team, you can duplicate it to your team workspace.

Any other questions?
You can DM me on Twitter or hello@excessbrain.com
Disclaimer
SEO is a medium to long-term effort, so not all tactics in this will provide results immediately.

This will not magically let your site appear on the #1 page of Google, you'll still have to do the work. This sets you on the right path.

This is more like a wiki & resource list, with templates and recommended workflows. This is NOT an SEO Course.

This does not contain any form of automation or advanced SEO reporting that requires API access. Once Notion releases an API, that may be considered.

This is not an SEO Analytics or research tool.

This does not cover any tool-specific tactics.

This is not an enterprise-level kit for SEO. There's a lot of complicated workflows for an enterprise that isn't currently possible to create in Notion.

This is a completely independent project. Not affiliated with Moz, Notion, or any other company that the creator is connected to.