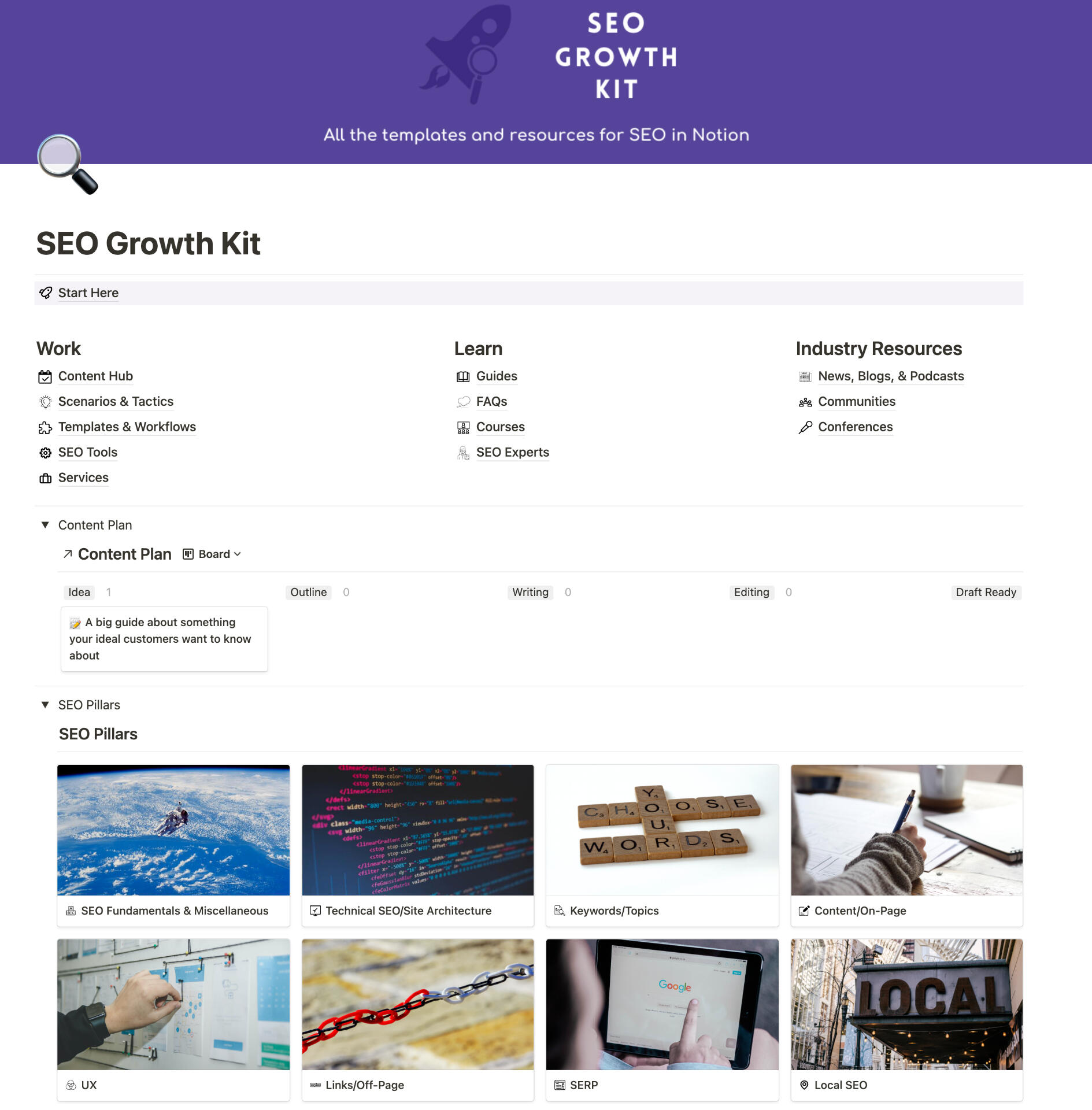 All you need to level up and manage SEO in Notion
Meet your new SEO library and operating system.
SEO Growth Kit is a collection of the best resources & Notion templates for SEO.
Plan your content, optimize your workflow, & level up your SEO skills.
Start growing your audience, leads, and revenue organically.
Trusted by 503+ people
"Wow wish I thought of this. Whether you are just getting started with SEO, or just getting started with Notion, this kit is filled with tools, templates, and resources that will set you up for success" - JH Scherck, Growth Plays
---
SEO is the way to get free & consistent traffic to your website or blog.
But understanding & managing it is a challenge 😕
"Where do I begin?"
"What advice should I trust?"
"How can I keep up with the constant algorithm changes?"
These are common questions that SEO beginners ask 🤔For those who understand SEO, building the right systems and templates to manage the work involved is time consuming.SEO Growth Kit solves these challenges and more...
---
"This is a fantastic Notion template - well, much more than a template: It's a complete knowledge base, tutorial, and workbook, full of actionable guidance for all SEO activities. Grab it now before he realizes how much he should be charging for it!" - Westrow Cooper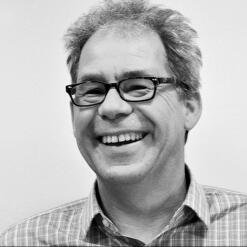 ---
This is for you, if you're:
Looking to get more organic traffic for your site.

New to SEO & want to know the best practices.

An experienced SEO & you want to improve your workflow.

Looking to solve your SEO challenges.

Struggling to manage your content pipeline.

In search of the right tools to make things easier.

Trying to keep up with the ever-changing SEO landscape.
What's in the kit
185+ of the best SEO guides
From the definition of SEO to step-by-step guides for the most advanced SEO tactics. There's a guide to help you level up your SEO skills in the kit.

---
31+ templates & workflows to manage your SEO activities
SEO Goals Tracker

Site Health Checklist

Link Building Checklist

PR Outreach Tracker

Keywords Generator

Search Intent Cheatsheet

and lots more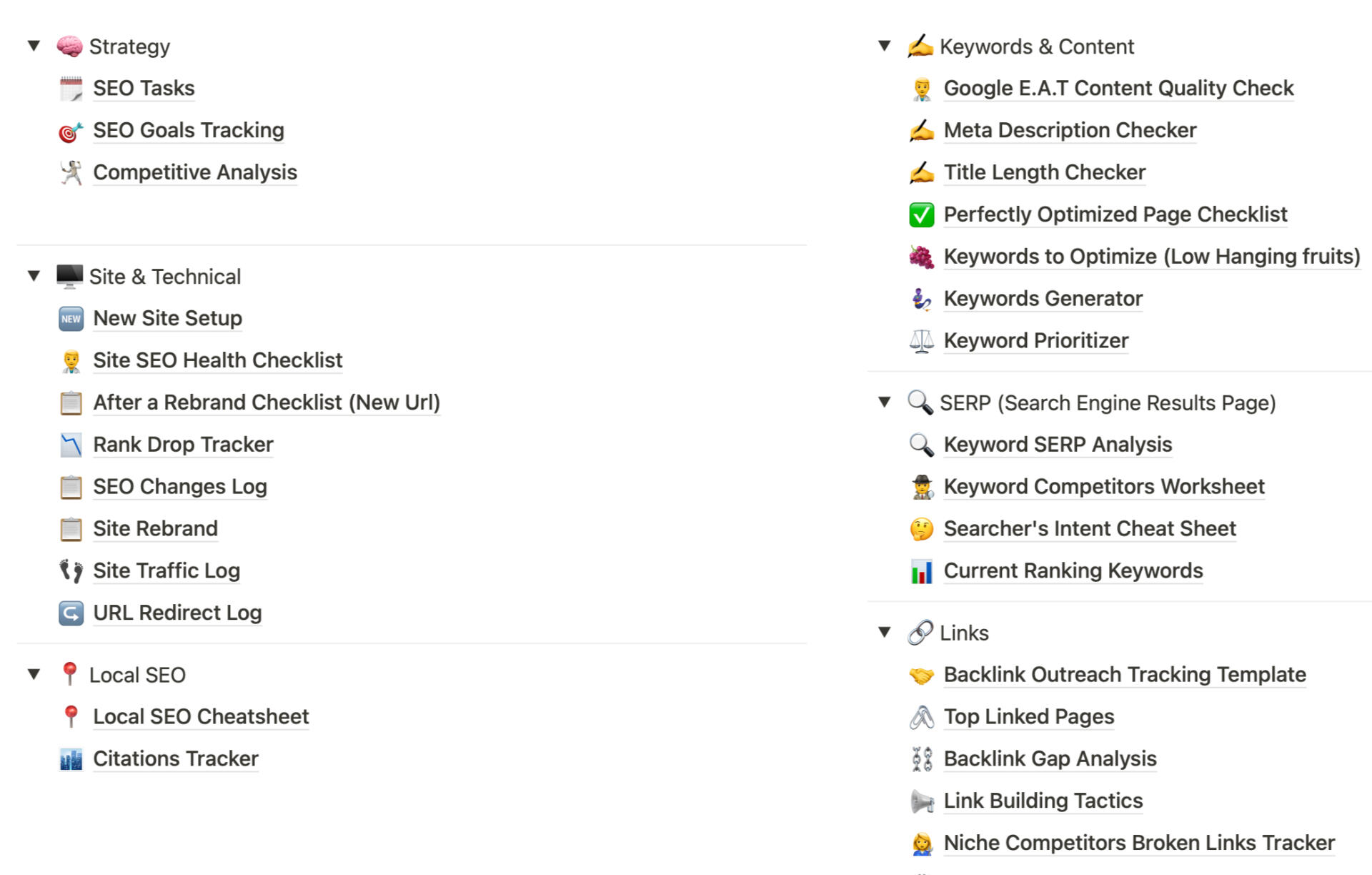 ---
Get instant solutions to SEO challenges
Get quick step-by-step solutions to common SEO scenarios.

Access answers to frequent SEO questions.

Generate keywords with the automatic Keywords Generator

Verify your Title Tags, Meta Description etc.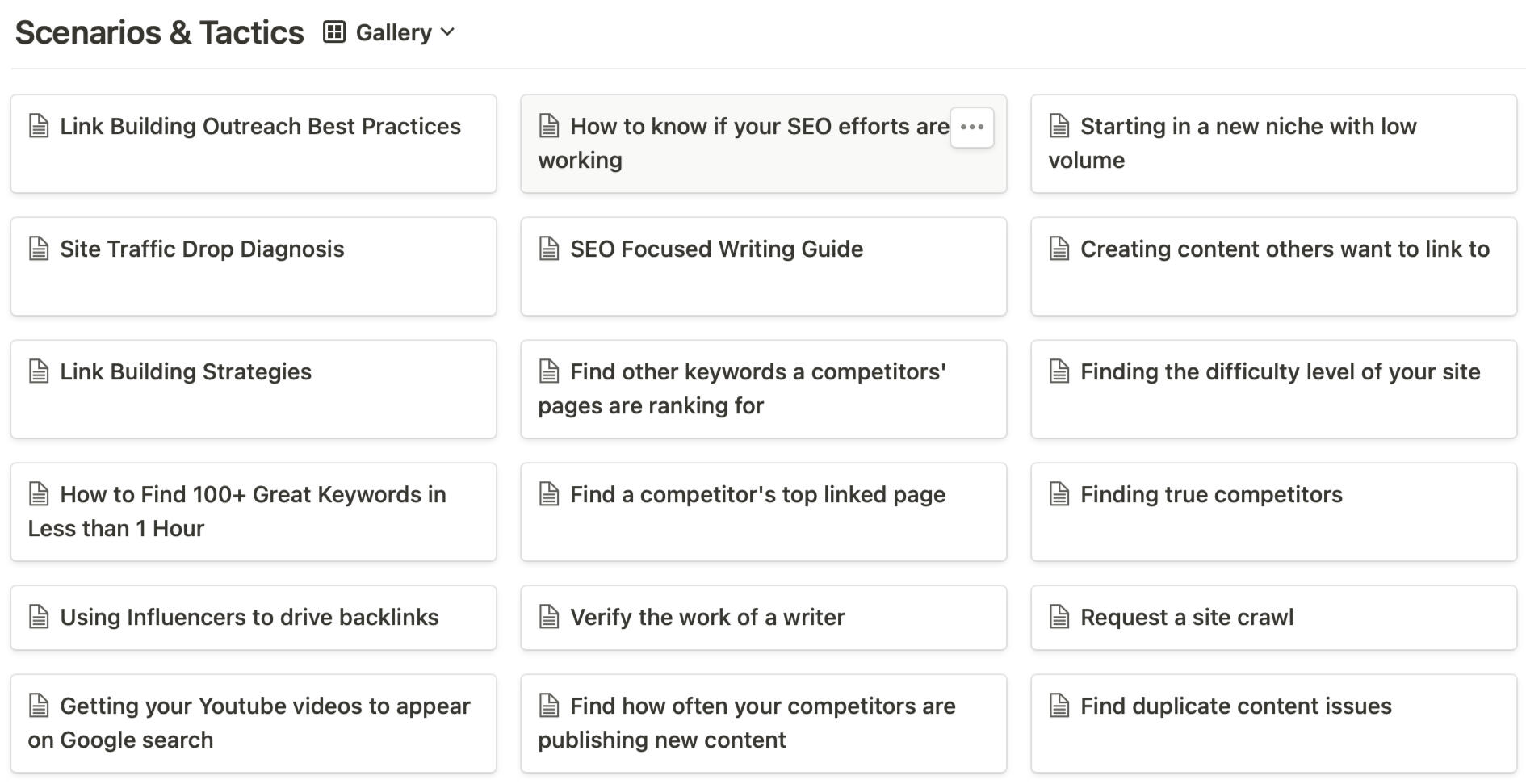 ---
---
Lots of other time-saving templates
Curated directory of the best SEO tools, courses, service providers, & experts.

A comprehensive list of tactics & best practices for link building.

Trackers for keywords, topic clusters, & SERP intent.

In-depth content calendar with built-in content brief & associated keywords.

SEO FAQS with answers.

Common scenarios & quick tactics to tackle them.

A curated list of blogs, podcasts, communities, and sites to learn more about SEO

And more...
Who are you and how are you qualified to create this?When not sharing Notion tips as an official ambassador, my day job is at Moz where I'm an SEO expert & User Researcher. I've also emceed the last 2 MozCons.Check out my Whiteboard Friday video on the Moz blog where I explain the three bosses of SEO.Here's an official feature of my workflow on Notion's site.And here's my Notion Office Hours session with Marie Poulin.Over the years, I've worked with and learned so much about SEO from the very best brains in the field. I've also helped thousands of customers master SEO. I've packaged all that into an accessible collection of templates and resources for you.My unique mix of skills like programming, project management, UX design, media outreach, etc was also applied to create this.Does this work on the free version of Notion?
Yes, Notion has a free personal plan. After you've made the purchase, you automatically get a link, which you can duplicate to your Notion workspace. You don't need to pay for Notion to use this kit.I'm new to Notion – will I understand how this works?
Yes, this includes a well-detailed walkthrough video.Is there a refund policy?
Quite tricky with Notion templates. However, I value long-term relationships over quick bucks. Reach out if you're not satisfied and I'll try my best to help you :)Can I duplicate this and share it with my team/friends?
This is a personal license for individual use. If you intend to use it in a team, you can duplicate it to your team workspace.What about future updates to you?
If you purchase the kit now, you'll get lifetime access to all future updates.Any other questions?
You can DM me on Twitter
---
Disclaimer
SEO results take time initially, so not all tactics in this will provide results immediately.

This isn't a magic bullet for your site to immediately appear on the #1 page of Google. This sets you on the right path.

Think of this as a treasure chest that includes wikis & resources, templates, and recommended workflows. This is not an SEO course. But it has recommended courses.

This does not contain any advanced automation or SEO reporting that requires API access. Reach out, if you need help integrating this with an API.

This is not an SEO Analytics or research tool. Moz has great tools for that.

This does not cover any tool-specific tactics.

This is a completely independent project. Not affiliated with Moz, Notion, or any other company that the creator is connected to.